Blonde Hair:
Blonde hair, whether it is a gift of nature or the result of coloring, needs more care than darker shades of hair.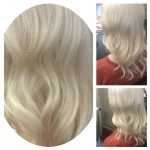 Among all of the types of color treatments bleaching still is number one on the list. While extreme blonde hues like platinum blonde are all the rage for models and stars, in the everyday setting women prefer softer honey and caramel hues. The bleaching must be done carefully and professionally so it still appears soft and beautiful.

You Just Changed To Blonde? You probably want this exhilarating feeling to stay with you forever. Providing you master some care rituals and treat yourself to the proper products, nothing should keep you from enjoying your life as a blonde for a long time  Hair color turns lighter mostly through bleaching your current color out which can cause damage if it isnt done properly and professionally. whether your hair is platinum, ash or golden blonde or whether it is only accentuated with some lighter streaks Blonde hair demands a lot of maintence , and comes with the nuisance of the darker regrowth, the tell-tale sign of bleached hair.  Here are some tips for you blondes out there! 
Blonde Tips
#1. Don't go out without it in the summer months, not without UV protection that is! Light hair contains less melanin than darker hair shades. The rays of the sun will therefore much easier penetrate your hair. As a matter of fact, hair needs the more protection the lighter it is
#2. Does your platinum blonde hair show a yellow tinge? Shampoos for grey or white hair can remedy this by neutralising the unwanted yellow tones with magenta pigments. Natural allies in the fight against the yellow tinge are chamomile and lavender. Both are well-loved stars among the hair care ingredients
#3. Have you discovered a green tinge in your blonde hair? Copper in your tap water may be the culprit. Acidic rinses are the remedy of choice. The rinse may consist of 2 tablespoons of lemon juice in a glass of water or alternatively, of an aspirin dissolved in water
#4. Bleached hair absolutely needs a weekly cure. Different from conditioners, these hair cures provide active ingredients, which deeply penetrate the hair. Every bleaching results in damages to the dandruff layer. The regular application of hair cures will alleviate those damages
#5. Take advantage of special hair care products for blondes. These products will intensify the colour every time you shampoo your hair and the conditioners will treat the hair so that the light lustre of your hair keeps dazzling everybody
#6. There is also deluxe colour care. If you are in the habit of visiting your hair stylist regularly then you can simply make treating the dark roots part of your schedule. Colour touch-ups and intensive conditioning treatments every four weeks will give you a perfect head of blonde hair. Frequent colouring makes it essential to include the heavy duty conditioning in your routine
#7. Wearing your hair without precise parting will take the edge off the root colour problem. Dark roots catch the eye far less when your hair is not parted in a particular spot. You may want to try it
#8. Streaks in several shades distract from the darker roots, aside from giving your blonde hair a natural appeal.